Fifth Wheel Basics

Shop Fifth Wheel Campers
What is a Fifth Wheel Camper?
A Fifth Wheel camper is a large camping trailer that's towed by a full-size pickup truck. It's attached to the truck via a hitch mounted in the center of the bed, called the "fifth wheel," hence the name of this type of recreational vehicle. Affectionately nicknamed a "Fiver," fifth wheels are especially great for long family road trips, since the spacious trailer includes a prominent overhang over the truck bed that can be a bedroom suite, living room, or even kitchen. Fifth Wheels typically come in two types of RVs: Fifth Wheel Toy Haulers and Fifth Wheel Travel Trailers. 
---
Fifth Wheel Floor Plans
---
Fifth Wheel Bunkhouse
Bunkhouses are popular because they maximize sleeping and living space for families and big groups. While they have a "master" bedroom and bathroom like most other floor plans, they also feature bunk bed sleeping arrangements to accommodate the extra people.

This type of fifth wheel camper is perfect for traveling with your family or a large group of friends, while providing everyone with enough space!
Fifth Wheel Bunkhouse for Sale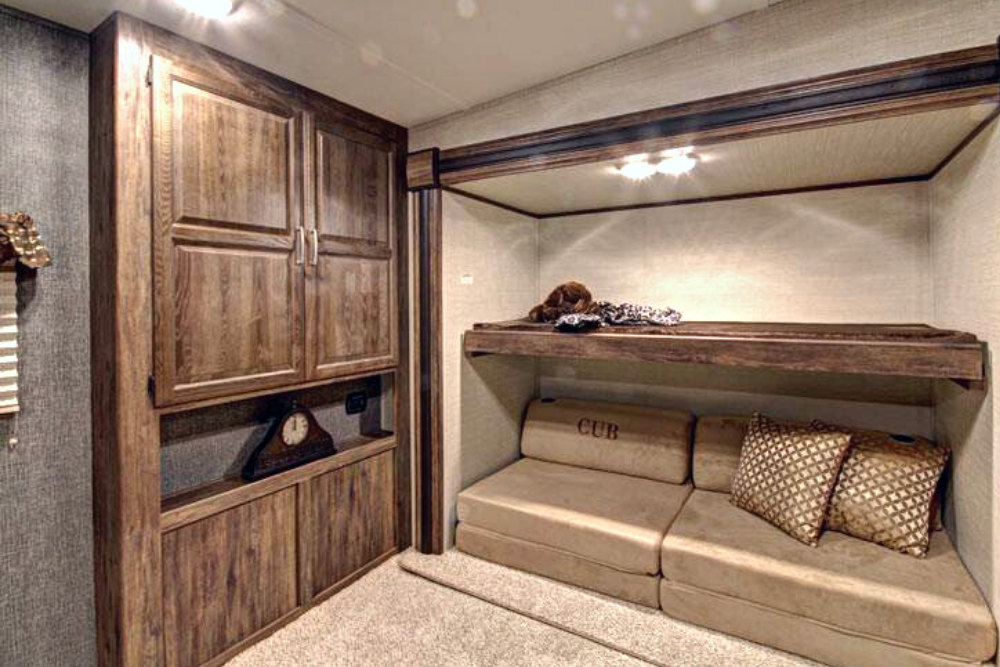 ---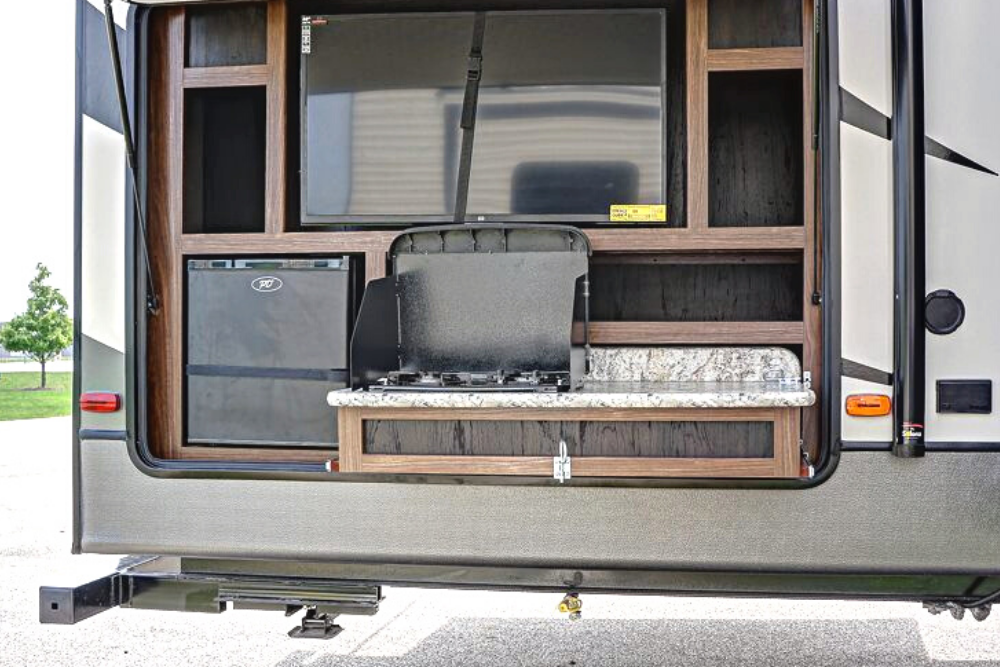 Outdoor Kitchen Fifth Wheels
If you want an RV, especially a fifth wheel, you probably love spending time outdoors or entertaining friends and family. You may love both of those things! That's why an outdoor kitchen would be your new best friend.

Whether you're camping and want to eat under the stars, or your tailgating and want to cook the game day steak outside where the TVs are set up, a fifth wheel with an outdoor kitchen is perfect for you!

Shop Fifth wheels with Outdoor Kitchens
---
Front Kitchen Fifth Wheels
A more recent trend in fifth wheel layout places the kitchen in the front overhang, which reconfigures the master bedroom nearer to the bathroom, living area, and other amenities. While it's not super popular yet, make sure to check out this floor plan when you're shopping for RVs!

If you love cooking and having a bigger, more spacious kitchen is important to you, this is the best fifth wheel camper you could ever choose!
Front Kitchen Fifth Wheels for Sale
---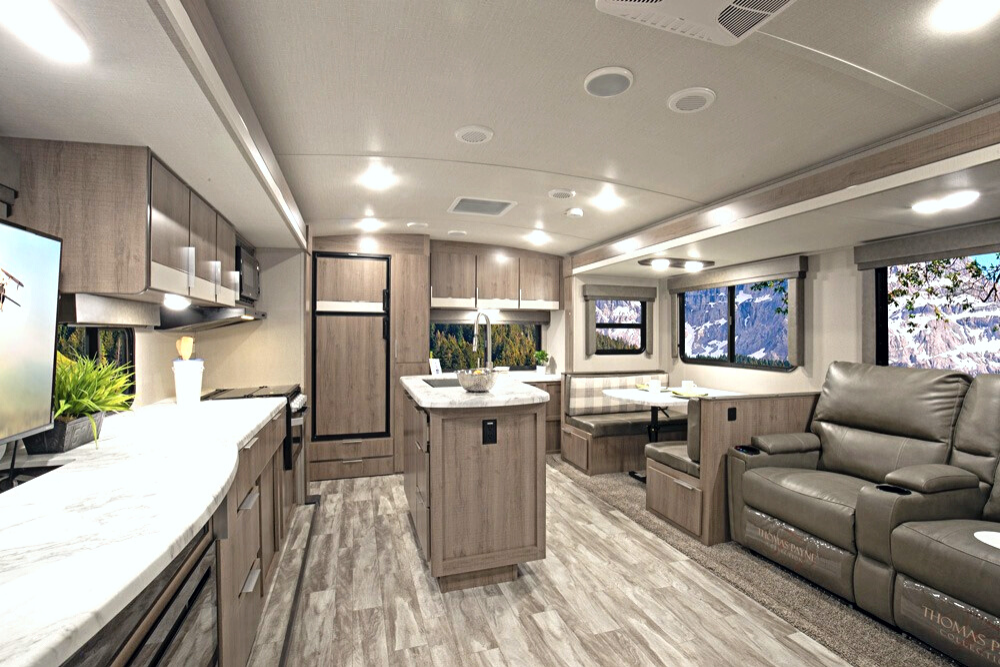 Front Living Fifth Wheel
Another often overlooked floor plan places the living area at the front, which has a number of benefits: the bedroom and bathroom are taller. Additionally, the separation of three steps between the living room and the rest of the RV gives a "den" feel; and that can come in handy if you have guests sleeping in the living room!

This floor plan is great if you value more open living and entertainment space to host others!
Front Living Fifth Wheels for Sale
---
Fifth Wheel Pros & Cons
---
Pros of Buying a Fifth Wheel
Towing vehicle doubles as transportation
Increased towing safety
Extra space
Versatile amenities
Less vehicle maintenance
Cons of Buying a Fifth Wheel
You MUST having a capable towing vehicle
Separation between driving & living space
Requires ample storage space
---
Popular Fifth Wheel Camper Brands
There are many awesome fifth wheel campers out there, but you have to make sure you go with one that is reliable, durable, and crafted to fit your specific needs.
Many of our great fifth wheel brands do just that. Check them out!
---
FAQs About Fifth Wheel Campers
What size truck do you need to pull a fifth wheel camper?
A truck that weighs a half-ton is typically large enough, but people who opt for this larger RV typically need a 3-quarter-ton truck, like a Ford 250 or something of similar size.
How tall is a fifth wheel camper?
The average heigh of a fifth wheel trailer is about 8-10 feet, but this can vary depending on the size of the towing vehicle, the fifth wheel's profile, and more.
How much is a fifth wheel hitch?
If you install the hitch yourself, your cost will be about $300 - $600 plus the cost of any additional tools you need. If you get it professionally installed, the cost could range from $800 - $1,600.
What's the difference between a gooseneck and a fifth wheel hitch?
Fifth wheel hitches are larger than gooseneck hitches, and they are hinged plates that sit within the bed of your towing truck. Goosnecks are also ball hitches instead of hinges, and they are installed within the bed of the truck.
---