Jayco RVs for Sale at Blue Dog RV
Blue Dog RV is proud to be your premier location for Jayco in Oregon! Jayco is a top RV manufacturer in the industry, providing award-winning floorplans that our customers are sure to love! Jayco has been perfecting their RV brand for over 50 years and continues to offers some of the top travel trailers, fifth wheels, toy haulers, and motorhomes on the market. Shop our Jayco Travel Trailer, Jayco Fifth Wheel, Jayco Toy Hauler, and Jayco Motorhome inventory in Medford, Oregon today!
Jayco Travel Trailers
Jayco Travel Trailers are the most popular Jayco RV because they are the easiest for customers to haul and come in a variety of sizes and budgets that make them accessible to virtually every customer. Some Jayco Travel Trailer options include:
Jay Feather Micro
Jay Feather
Jay Flight Bungalow
Eagle Travel Trailers
Shop Jayco Travel Trailers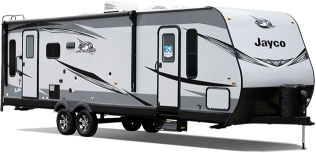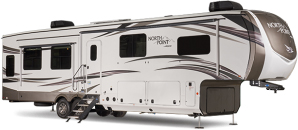 Jayco Fifth Wheels
Jayco Fifth Wheels are ideal for customers who are looking for an option to have higher ceilings, more total living space, and room for more gear. This option maintains the easy-to-tow stability that you're looking for! Available Jayco Fifth Wheels include:
Eagle HT Fifth Wheels
Eagle Fifth Wheels
North Point
Pinnacle
Shop Jayco Fifth Wheels
Jayco Toy Haulers
If you are looking for an RV that gives you the perfect balance of living space with a garage to fit your gear, the Jayco Toy Hauler inventory is for you! Bring your toys on your next adventure when you choose of the many toy hauler options including:
Jay Flight Octane
Talon
Seismic
Shop Jayco Toy Haulers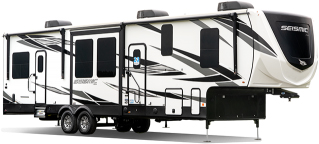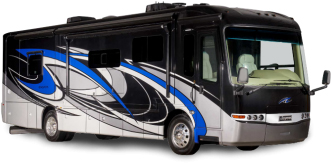 Jayco Class A Motorhomes
Jayco Class A Motorhomes are the ideal RV for shoppers looking for a motorhome that provides a spacious interior and allows you to travel more comfortably on your next adventure. Options include:
Alante
Precept
Precept Prestige
Embark
Shop Jayco Class A Motorhomes
Jayco Class C Motorhomes
Jayco Class C Motorhomes offer additional space in the interior thanks to the bunk area over the cab, & the ability to maneuver more easily when encountering tight spaces. Jayco Class C Motorhome options include:
Redhawk
Greyhawk
Melbourne
Shop Jayco Class C Motorhomes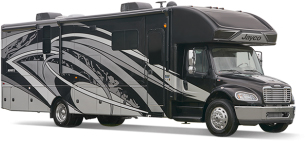 Jayco RV FAQ
What brands does Jayco RV make?
For over 50 years, Jayco RV has provided customers with a large selection of recreational vehicles in body styles such as travel trailers, motorhomes, and fifth wheels. Some of the popular brands from Jayco RV include Eagle, Jay Flight, North Point, and Seismic.
What warranty do you receive with a Jayco RV?
When you purchase a new Jayco RV, you receive a 2 year limited warranty and a 3 year structural warranty. What's more, additional warranty coverage is offered on select components and materials that are installed in the Jayco RVs.
Why should I purchase a Jayco RV?
Jayco RV strives to provide its customers with quality products and sustainability, with over 50 years of family fun and various awards to back it up. Within the Jayco RVs, you'll find a Magnum Truss roof system and a climate shield that protects against extreme heat and extreme freezing, amongst other things. In addition, the Jayco RV brand is committed to cutting down waste and energy consumption for a better environment.