Motorhome Basics

Shop Motorhomes!
Types of Motorhomes
There are 3 different types, or classes, of motorhomes, and they are very different from each other. There are Class As, which are the largest, Class Bs, which are the smallest and "van-like," and there are Class Cs, which is basically a truck camper, except all the parts are attached. All of these classes of recreational vehicles are designed for different purposes and different types of people. No matter if you buy a new motorhome or if you buy a used motorhome, you'll be so glad you did!
---
Class A Motorhomes
Not only are Class A motorhomes the largest, but they're also typically the most luxurious and expensive. The largest of the Class As can sleep 9 people, making it a perfect ride for long family road trips. Because of the space, it would make a nice "mobile home" for someone or a couple who has retired and wants to relax, but have the freedom to go anywhere! No matter if you want a new Class A RV or a used Class A RV, it'll become your new best friend!

Although this class of motorhome is very useful for road tripping or even "RV living," those who own one find many uses for this awesome vehicle. One really cool thing to do with your Class A motorhome is to take it tailgating! Yep, you heard me. Tailgating. Sometimes there are even entire lots dedicated to RVs, essentially creating an RV park right on campus! With a Class A motorhome the fun is endless!
Shop Class A Motorhomes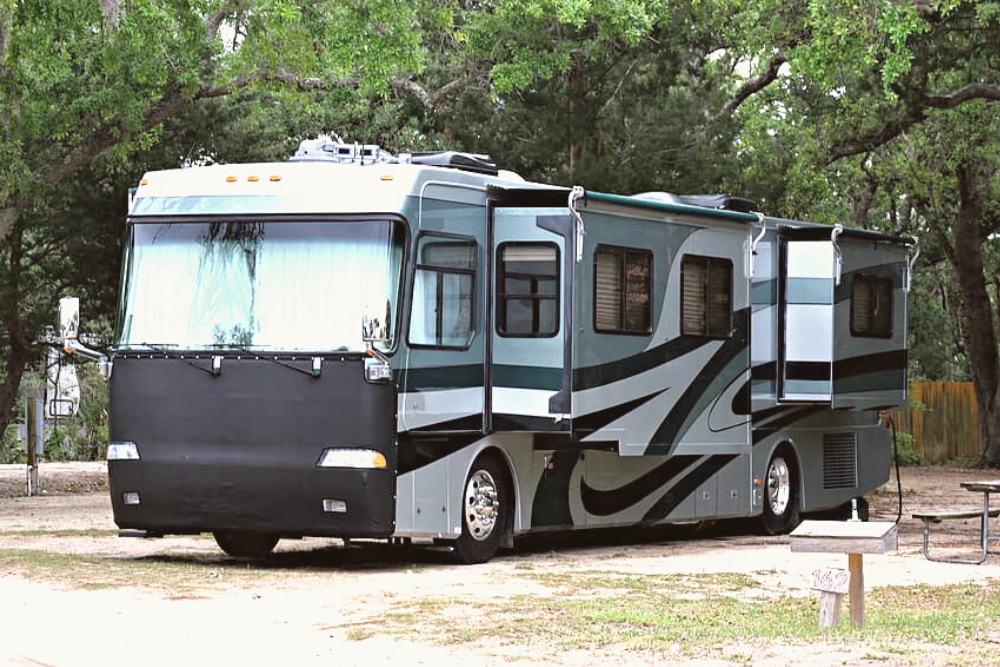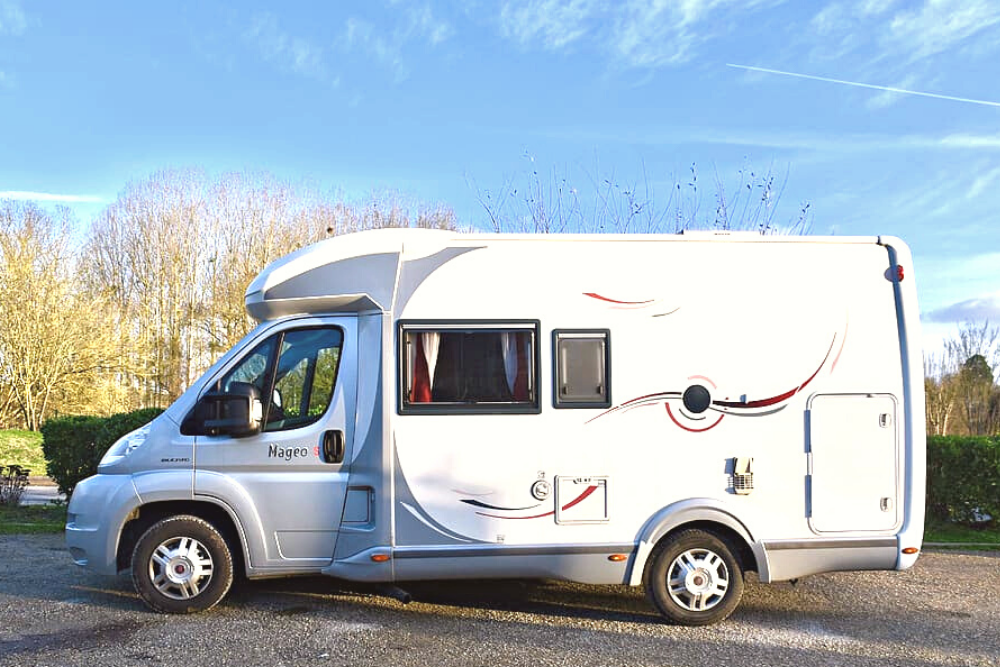 Class B Motorhomes
A Class B motorhome is basically a "camper van." They're small, streamlined, and easy to maneuver, which is perfect for crowded cities or roads. These motorhomes are often used for shorter journeys with only one or two people, as they can typically only sleep two people. If your goal is to spend a day or two relaxing at the lake or anywhere else with your bestie or with a loved one, a new Class B RV or a used Class B RV is the perfect RV for you!

Shop Class B Motorhomes
Class C Motorhomes
A Class C motorhome is almost a cross behind a Class A and a Class B; it has the space and sleeping room that's more like that of a Class A, but it is built upon a truck or van, like a Class B. You truly get the best of both worlds with a Class c RV because you get the power, mobility, and easy navigability of a Class B, but you get the space and amenities of a Class A.

This motorhome will give you the power to go almost anywhere and do almost anything! If you're all about adventure, but you also want something that's easier to drive and store, then a new Class C motorhome or a used Class C motorhome is what you need!
Shop Class C Motorhomes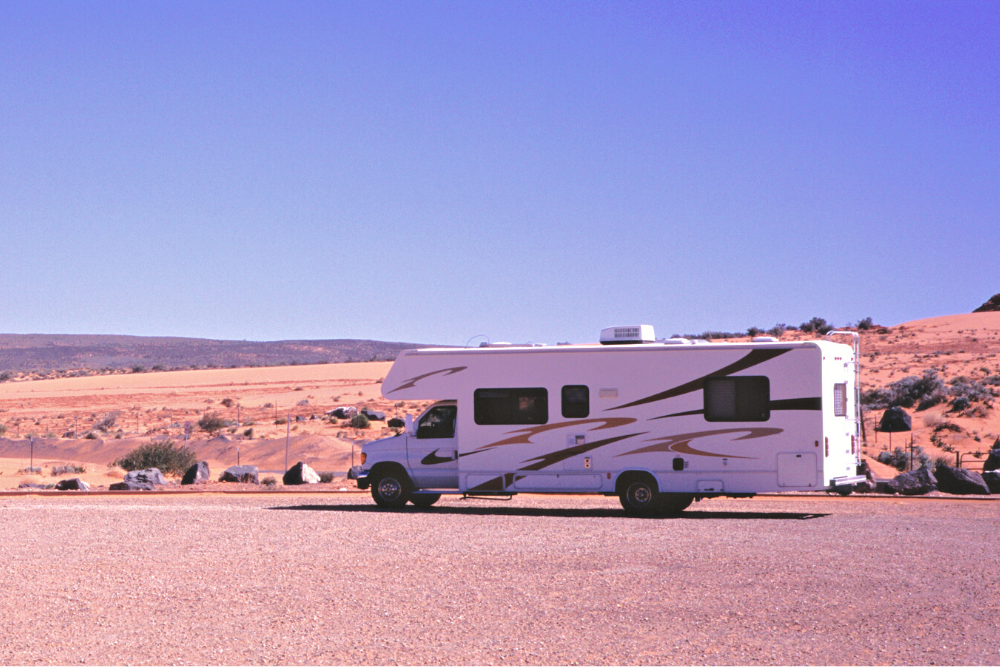 ---
Motorhome Floor Plans
There is a considerable amount of floor plans available when it comes to motorhomes, and they vary based on the class of motorhome. When you're choosing a floor plan for your new motorhome, there are some things you need to consider, such as how often you'll be using your RV, how many people will typically be in the RV with you, and how much extra space you want. The perfect motorhome floor plan for you depends on what you want to prioritize in your new space! Although there are specific floor plans for each class of motorhome, Class A's and Class C's can often have similar features. If you're not sure what motorhome class you need, check out some general motorhome floor plans! Price can also fluctuate depending on the layout, so check out our new motorhomes under $100k if you're looking for a smaller monthly payment!

We have a wide variety of motorhomes with:

Murphy Beds
Bathtubs
Outdoor Kitchens
Bath and a Half
Two Full Baths
Rear Bedroom
Outdoor Entertainment
Bunk Over Cab
U-Shaped Dinette
Class A
If you've decided to buy a Class A motorhome, you've probably done so because you'll typically have multiple people in the RV with you.
There are a few different layouts available that will suit all your needs!
Front Living: This layout is perfect for you if you plan on spending all your time with the group on the RV. A wide living space makes for great family dinners and super fun game nights!
Bunkhouse: If you love your bed like it's one of your own, then you need a bunkhouse. Prioritizing privacy and comfort in your sleeping area is easy when you have a spacious, closed off rear bunk house in your motorhome.
Bath & A Half: So, this one is obvious. You have a whole entire bathroom and a half bath as well. This is perfect for larger families in case anyone needs to use the bathroom at the same time.
Class B
While the "floor plan" of many Class Bs are the same or very similar, there are many different design elements you can choose based on your needs.
They include:
mostly seating
twin beds
a bath area
a kitchen area
& more!
Class C
Like we said before, Class Cs are the best of both worlds, so they have many floor plans that are like the Class A layouts. Again, it just depends on what your priority is when it comes to living the "RV life!" The most common floor plans for Class C motorhomes include:
front living
corner bed
bunkhouse
full wall slide
rear bed slide
---
Popular Motorhome Brands
There are a multitude of RV brands out there. Some are good, and some are great, but we know some of the best. Here at Blue Dog RV, we carry some of the best and most reliable RV brands such as:
When you're searching for the best RV brand for you, be sure to check the brand's reputation, their price points, their quality, and all the other details you need to consider while buying an RV.
---
FAQs About Motorhomes
How many square feet are in a motorhome?
The typical square footage of a motorhome averages from 250 sqft to 350 sqft, but a little more space can be added with slide outs if they come on your motorhome.
How tall is a motorhome?
The height of a motorhome differs based on its class. A Class A motorhome is typically 12ft - 14ft, a Class B can range from 7ft - 10ft, and a Class C typically reaches about 10ft - 12ft.
Do you need a special license to drive a motorhome?
In most states, all you need is a regular driver's license that is valid. However, a few states such as California, Washington, Wyoming, and more, will require an RV license if your RV is over a certain length or weight, which is typically 26,000 lbs. In California, you'll need a special license if your motorhome is over 40ft long.
How much is motorhome insurance?
Class A Motorhomes: Average $1,000 - $4,000 annually
Class B Motorhomes: Average $500 - $1,000 annually
Class C Motorhomes: Average $800 - $3,000 annually
---