Dutchmen Aspen Trail at Blue Dog RV
What makes the new Dutchmen Aspen Trail travel trailer so special? It's a quality-built, luxury RV that's easy to hook on the trailer and hit the open road, with a focus on design and value. At Blue Dog RV, we hand pick all the models we keep in stock at our 13 locations and this Dutchmen RV was a no brainer for our list. With over 35 different floor plans and a class-leading number of standard features, the new Aspen Trail really shows it's worth as one of the best campers on the road. Read on to learn more about what makes this new travel trailer so impressive.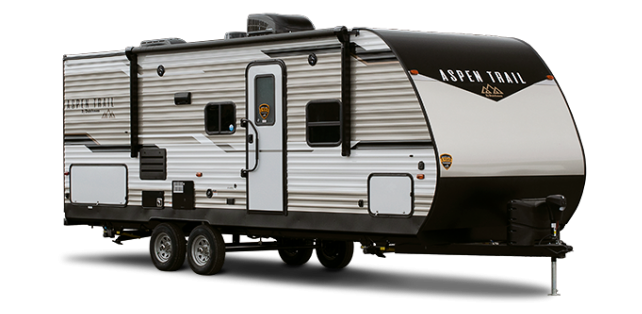 Be the Hottest Travel Trailer on the Road in the New Aspen Trail
With such a wide selection of different floor plans, you can pick everything you need to be comfortable in your travels. That could mean the 21" 5" 17BH model that easily fits in tighter campground areas, or the 39' 9" 3650FLDS model that sleeps up to 10 people. The new Dutchmen Aspen Trail has so many options and comes standard with a ton of features. In fact, it has more standard features than any other RV trailer in its class, with exterior features ranging from it's heated and enclosed underbelly to the diamond plate rock guard. And with a seamless, one-piece roof that you can walk on and extended rain gutters, it's the perfect durable trailer for all your needs.
Check Out What Really Makes the Aspen Trail Shine
Once you step inside the Aspen Trail, you see why this trailer is soon to become your newest travel companion. The designers and engineers of the have really utilized this interior space well. Right off the bat, you'll be impressed with the 82" interior height that makes the entire space feel larger and more luxurious. It'll feel like your home away from home. And with that larger feeling space, Dutchmen pack this travel trailer full with features that make life on the road convenient and comfortable. No matter the configuration, the Aspen Trail comes standard with a queen size mattress, range with oven and range hood, bath skylight, and cable TV hookup with a booster built in among many other features. If you choose to add the Aspen Trail Upgrade Package, you'll enjoy the luxurious finishes and state-of-the-art technology that come along with it, like the seamless thermofoil countertops, maple hardwood cabinet doors, and the Aspen Trail Central Command Center.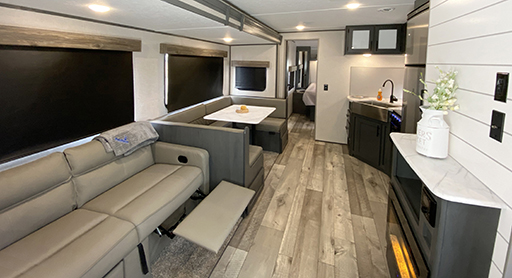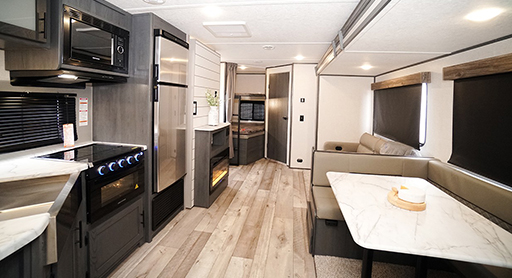 Shop Dutchmen Aspen Trail Inventory at Blue Dog RV
Let the Dutchmen Aspen Trail be your first choice for your adventure vehicle! This fully equipped travel trailer has many customizable floor plans to choose from so you're able to make it your own. The Dutchmen Aspen Trail is designed for the comfort and ease of the whole family while you're out on your adventure. Let us help you choose your destination travel trailer at Blue Dog RV! Stop by and check out our Dutchmen Aspen Trail travel trailers available today!