Grand Design Fifth Wheels for Sale at Blue Dog RV
Blue Dog RV is is proud to provide an extensive inventory of Grand Design fifth wheel floor plans for our valued Washington, Oregon, Nevada, Idaho, and California customers. If you are looking for a towable RV that offers the easiest towing options with added bonuses like higher ceilings, more storage, and the ability to get the great value for your dollar, the Grand Design fifth wheel inventory at Blue Dog RV is perfect for you & your family! Browse the Grand Design fifth wheels that we have to offer you at one of our RV dealerships across the Pacific Northwest today & discover how you can maximize your space on your need family getaway.
Grand Design Reflection
The Grand Design Reflection is a practical fifth wheel option for the the customer looking for the perfect combination of luxurious design elements, exceptional value, and superior towability. With over 8 Grand Design Reflection fifth wheel floorplans available, you are sure to find your next home away from home in this fifth wheel lineup at Blue Dog RV!
Grand Design Reflection Inventory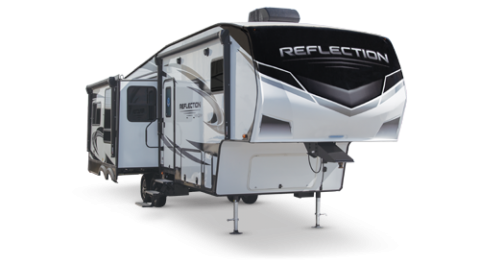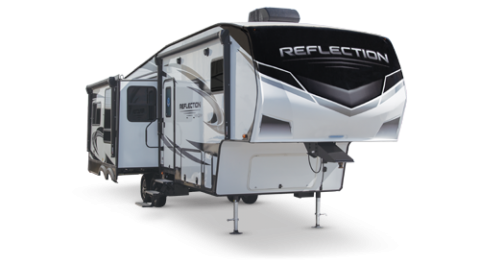 Grand Design Reflection 150 Series
The Grand Design Reflection 150 Series shatters glass ceilings in the industry for half-ton towables! You'll find floor plans under 7,000 pounds with impressive turning capabilities to ensure that you get the most out of your fifth wheel without putting your vehicle through the extreme situations. All of your expectations will be surpasses when you experience the functionality of the Grand Design Reflection 150 Series!
Grand Design Reflection 150 Series Inventory
Grand Design Solitude
The Grand Design Momentum gives our customers the luxurious interior they are looking for while giving a practical mobile garage that will allow you to embark on extreme adventures on your next vacation. Live comfortably and play on edge thanks to the versatility of the Grand Design Momentum toy hauler!
Grand Design Solitude Inventory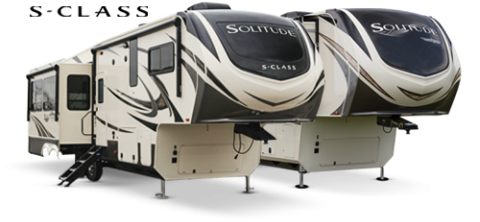 Grand Design Fifth Wheel FAQ
What are the benefits of purchasing a Grand Design Fifth Wheel?
The Grand Design Fifth Wheels provide luxury, value, and convenience within a wide range of floor plans and sizes. The Grand Design Fifth Wheel models are a great choice for the RV buyer that wants an easily towable RV that offers all of the conveniences of a home.
What is the most spacious Extended Stay Fifth Wheel?
The Grand Design Solitude is the most spacious Extended Stay Fifth Wheel ever built! With the Soulitude, you'll find taller ceilings, taller, deeper cabinets, larger scenic windows, a full 6'8" tall slideout, and a body width of 101 inches. With all of the space found in the Solitude, RV lovers can easily live in it for months at a time!
Are any of the Grand Design Fifth Wheels half-ton towable?
With floorplans starting under 7,000 pounds and 90-degree turning radius capabilities, you can confidently tow the Reflection 150 Series with many half-ton and short bed trucks. With these models being 250 pounds lighter than many other fifth wheels, there is more available payload capacity and a larger range of half-ton trucks that have the capability of towing the Reflection 150 Series.
Grand Design Fifth Wheel Gallery