Forest River Fifth Wheels for Sale at Blue Dog RV
Blue Dog RV is proud to provide an extensive inventory of Forest River fifth wheel RVs for our valued Washington, Oregon, Nevada, Idaho, Montana, and California customers. If you are looking for a spacious towable RV that offers higher ceilings, more storage, and greater towing stability, the Forest River fifth wheel inventory at Blue Dog RV is perfect for you and your family! Browse the Forest River fifth wheels that we have to offer you at one of our RV dealerships today and discover the advantages of spending your next camping adventure in one of these popular RVs.
Forest River Cherokee Arctic Wolf
The Cherokee Arctic Wolf fifth wheel provides the comfort and convenience you need in a lightweight package. With efficient floor plan designs and modern household amenities, the Forest River Cherokee Arctic Wolf fifth wheels have everything you need to relax and simply enjoy life's journey.
Forest River Cherokee Arctic Wolf Inventory

Forest River Cherokee
The Forest River Cherokee fifth wheels are built with you in mind to provide comfort and style so you can enjoy your travels to the fullest. With superior styling and convenient amenities, let a Forest River Cherokee fifth wheel improve your next camping experience with the family.
Forest River Cherokee Inventory
Forest River Flagstaff
The Forest River Flagstaff toy fifth wheels have beautiful, spacious interiors with tons of features to enhance your camping experience. The Flagstaff was designed while keeping your towing needs in mind and is available in both the Classic and Super Lite options, so even a ½ ton pickup will get this fifth wheel where it needs to go!
Forest River Flagstaff Inventory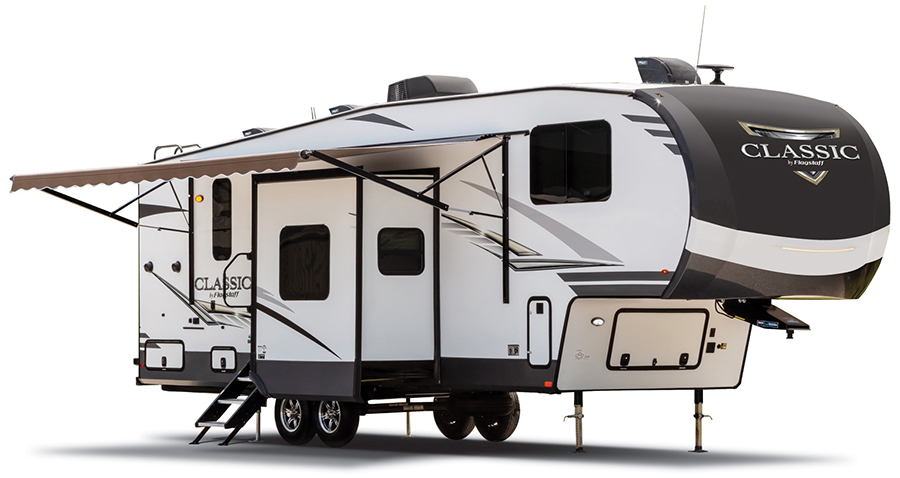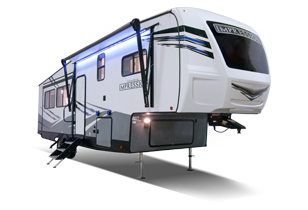 Forest River Impression
The Forest River Impression fifth wheel is built on a full-profile platform with a mid-profile price! The high-end luxury features of this Forest River RV, like its stainless steel sink, oversized windows, and LED lighting, will make you wish your next camping trip never comes to an end.
Forest River Impression Inventory
Forest River Fifth Wheel FAQ
What fifth wheel brands does Forest River make?
Camp comfortably with a Forest River fifth wheel camper from Blue Dog RV in Washington, Oregon, California, Idaho, Pennsylvania, Montana, and Nevada. Forest River makes some of the top fifth wheel brands in the industry, including the Forest River Cherokee Arctic Wolf, Flagstaff, Impression, Cedar Creek, Sierra, Hemisphere, Sabre, Arctic Wolf, & more. Explore tons of amazon fifth wheel options at one of our locations today!
What is the most luxurious Forest River fifth wheel?
The Cardinal is the most luxurious fifth wheel offered by Forest River. The Cardinal's style and features are directed at all campers, whether you enjoy a long stay or taking a quick trip around the areas of Washington, Idaho, Oregon, Nevada, Montana, California, and Pennsylvania. It is available in 8 different floor plans with external lengths ranging from 35 to just over 41 feet with sleeping space for up to 8 people. There is plenty of space for everyone on the trip!
What are the benefits of purchasing a Forest River fifth wheel?
Forest River fifth wheels provide all the comfort and convenience you need to enjoy your travels. These fifth wheels have exquisite, open insides with great features to improve your experience in the great outdoors. When buying a Forest River fifth wheel from Blue Dog RV, you are sure to get a product with great design and reliability, support after purchase, confidence, and peace of mind.