Coast to Coast Lifetime Warranty Component Coverage

 
Many customers wonder about the type of components under the Coast to Coast Lifetime Warranty program. For complete details on the components covered, check out the details below!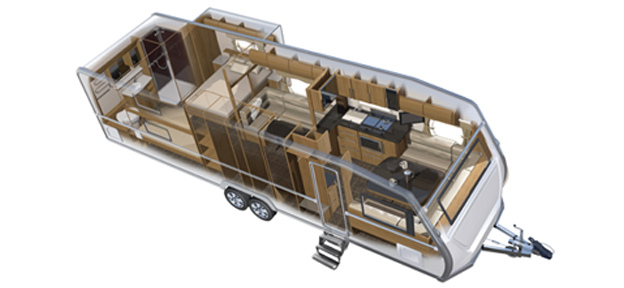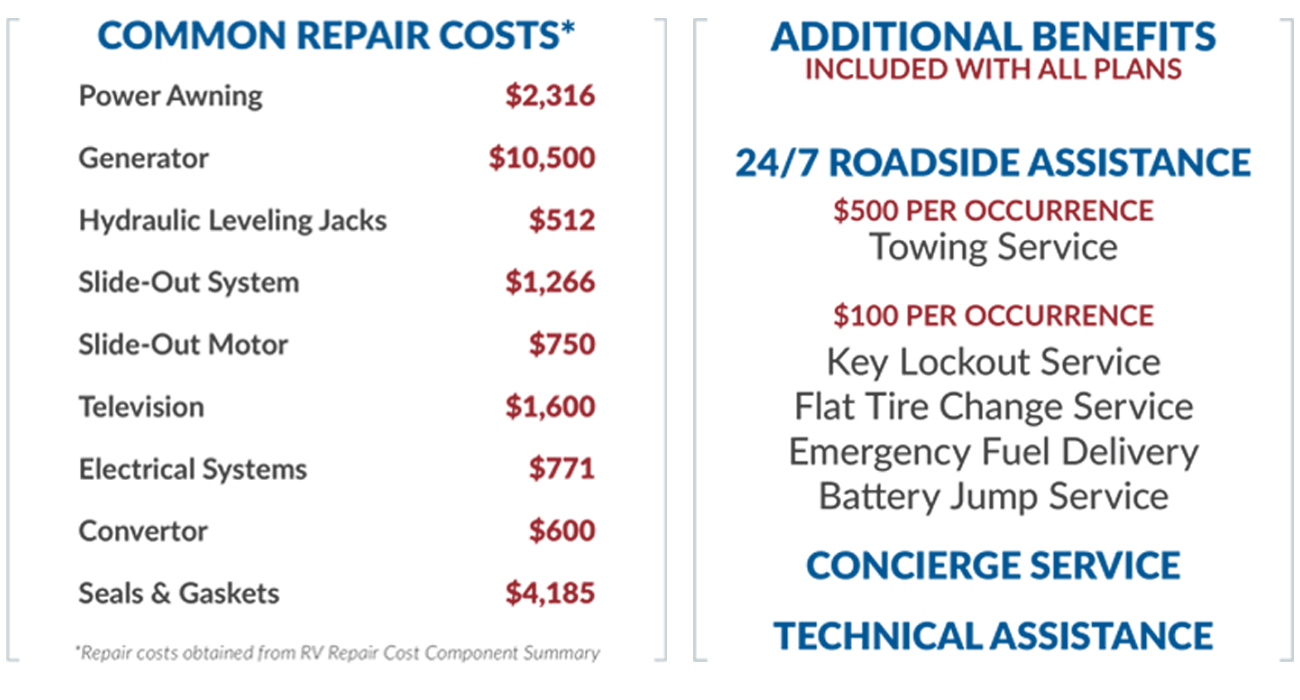 SUSPENSION COMPONENTS:
Leaf and coil springs, shackles and bushings, and rubber suspension springs.
BRAKE COMPONENTS:
Wheel cylinders, calipers, electric brake magnets, and hydraulic tubing and metal fittings.
WATER SYSTEM COMPONENTS:
Burner assembly, thermostat, thermocouple, gas valve, electronic ignition assembly, PC board, heating system, shower assembly, traps, fittings, and water lines.
AIR CONDITIONING COMPONENTS:
Compressor, evaporator, condenser, capacitors, relays, expansion valve, control module and panel, reversing valve, blower fan and motor, and PC board. Coverage applies to coach air conditioning system only, chassis air conditioning excluded.
KITCHEN CENTER COMPONENTS:
Range/oven burner assembly, burner valves, refrigerator/freezer, microwave, convection oven, thermostat, thermocouple, burner, igniter, PC board, icemaker, trash compactor, built-in coffee maker, built-in food processor, and in-sink disposal.
LP GAS SYSTEM COMPONENTS:
Gas tanks, gas valves, tank gauges, and LP lines and fittings.
HEATING SYSTEM COMPONENTS:
Furnace igniter, burner assembly, gas valve, gas leak detector, thermostat, thermocouple, blower motor, and PC board.
Notice: Towing and roadside assistance expenses are not covered under the

Coast to Coast Lifetime Warranty

 program.
Frequently Asked Questions
Q: Is there a deductible that I need to pay when making a claim?
A: There is no deductible on the program. All parts and labor are covered 100%.
Q: Can I perform my own maintenance?
A: No. All services must be performed by a professional repair facility. This is to ensure proper documentation as well as the workmanship of all services performed on your RV.
Q: When are claims specialists available to take my call?
A: Claim specialists are available Monday - Saturday to answer all of your questions. Just call our dealership.
Q: How do I know what maintenance is required to keep my RV Coast to Coast Lifetime Warranty agreement in force?
A: Simply follow the maintenance requirements outlined in your RV Coast to Coast Lifetime Warranty agreement. If you have any additional questions, please contact our dealership.
Q: Why do I have to follow the maintenance guidelines outlined in my RV Coast to Coast Lifetime Warranty agreement?
A: Proper maintenance is the best preventative measure in reducing future breakdowns. Your RV is less likely to experience a breakdown if it is being properly maintained.
Q: How do I make a claim in the event I experience a breakdown?
A: In the event of a breakdown, take the unit to the selling dealer if the breakdown occurs within 50 miles of selling dealer. If not, contact the administrator to make arrangements for service. You may also contact the administrator toll-free at 1-800-810-8458 for further instructions.