Keystone Arcadia at Blue Dog RV
The Keystone Arcadia was designed as a step-up from your usual run-of-the-mill RV. Using Keystone's next generation crawlspace chassis to create a more durable and weather-resistant frame, the Arcadia is the premier choice when looking for a fifth wheel RV. Available as a half ton or ¾ ton fifth wheel, the Keystone Arcadia delivers more performance, convenience, comfort, and style compared to its competitors. With a spacious floor plan including rear living, a mid-kitchen, bed slide, and a walk-in closet; the Keystone Arcadia was made to feel like home. Being the newest addition to the Keystone family, Arcadia sets a new standard for RV quality.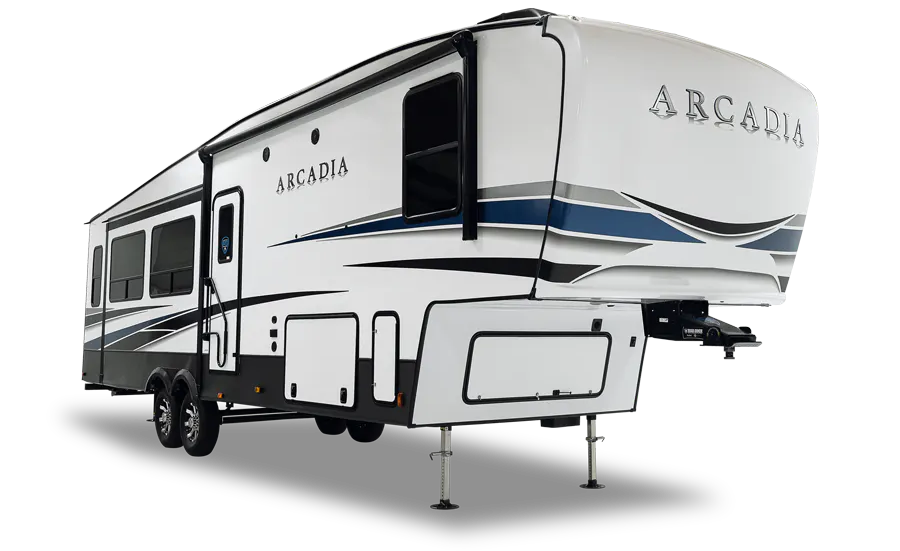 Keystone Arcadia: In a League of its Own
At the foundation of the Keystone Arcadia is a new chassis called NGC2 (Next-Generation Crawlspace Chassis). Arcadia completely reinvents the fifth wheel frame, bringing superior systems' performance, unmatched weather protection, and improved storage. Thanks to compromise-free electrical, plumbing, and heating systems, secure center spine, and THREE layers of insulation under the floor; the Arcadia was built to function and feel like a home.
Exploring the Arcadia Interior
Step inside the Keystone Arcadia and you will find an unprecedented quality and attention to detail. Equipped with all the creature comforts of home, you'll fall in love with the open and bright floorplan, modern accents, and the 55" flatscreen tv! Built to be efficient, cooking no longer feels like a chore when it comes to the Arcadia. Flip up the butcher block along the island work station, put on your favorite song using the Bluetooth® stereo, grab a bottle of wine from the wine rack placed conveniently above the microwave, and get started on a wonderfully relaxing date night. While you may be camping for the weekend or embarking on your next big adventure, the bedroom's California king bed and walk-in closet will have you feeling like you're floating on cloud nine!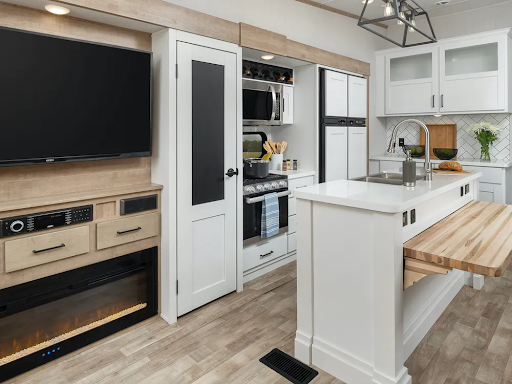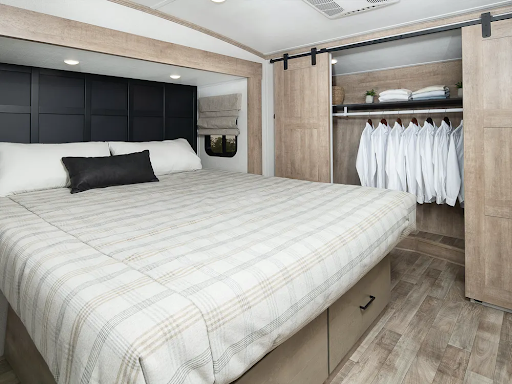 Find Your Next Mobile Home at Blue Dog RV
Now more than ever, people are turning to the RV lifestyle, and honestly, we don't blame them. With all of the luxury features that come standard in the Keystone Arcadia Fifth Wheel, escaping for the weekend or heading out on your next vacation has never been more relaxing. What's more, Keystone gives you peace of mind with 4G LTE and WiFi prep, making staying connected as easy as pie. Come fall in love with the latest and greatest that our team at Blue Dog RV has to offer. Come fall in love with a Keystone Arcadia.